🤩 Totally overhauled new prompt screen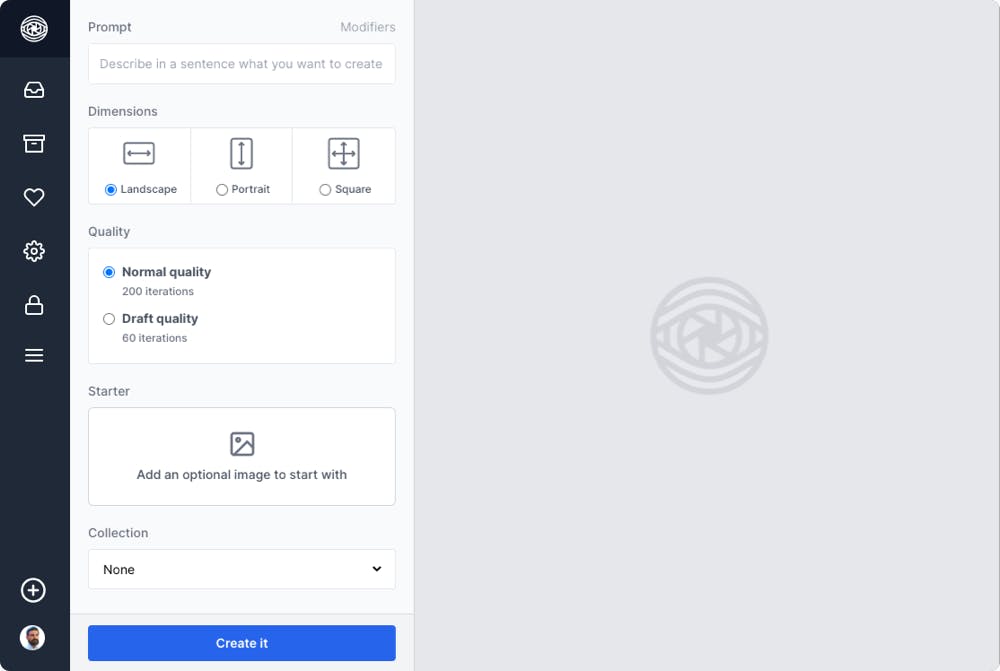 The new prompt screen. Still as simple as possible but now way more capable.
Now, before I go into how the new prompt screen is better and more capable than ever, first I want to say something very important: Accomplice will always be as simple to use as possible.
The whole point of leveraging AI in design software is to make it possible for anyone to create. Because I believe with a simple-as-possible, friendly, and approachable tool, we all can!
So, just like with the old prompt screen that was just a simple text box, if all you want to do is write a quick prompt and hit create, you can do it! Everything else here is either pre-selected to the previous default – i.e. landscape size and normal quality – or optional – i.e. starter images and collections.
Oh, speaking of starter images and collections…
🚀 Introducing starter images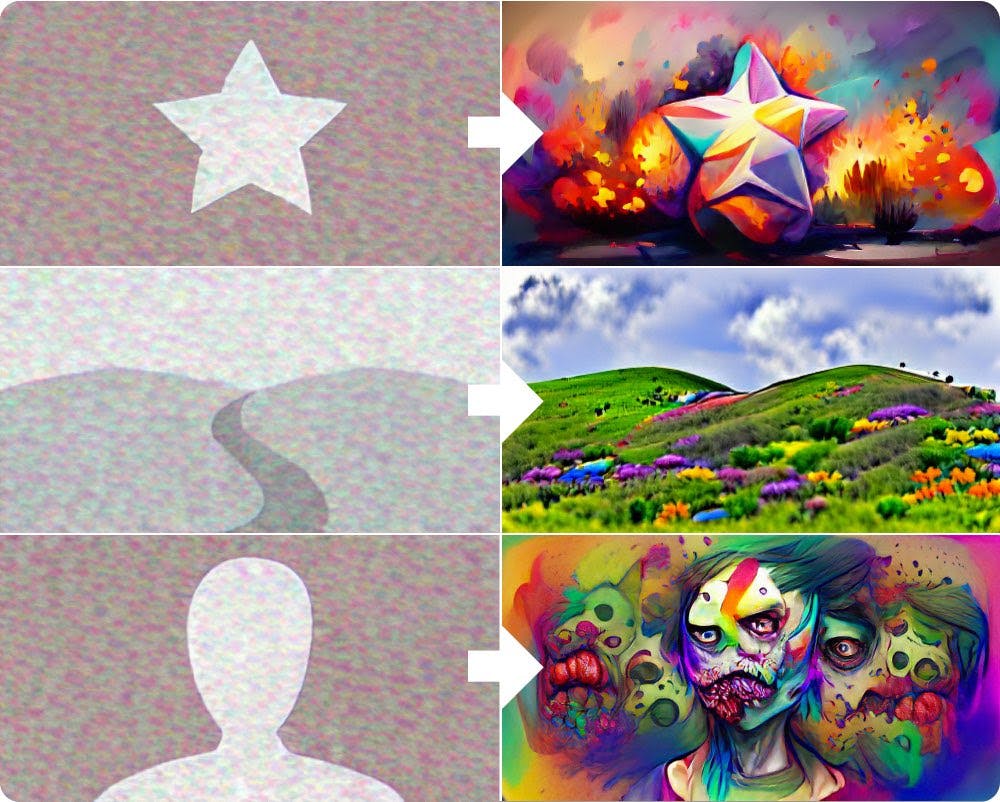 3 examples prompts where Iteration #0 used a starter image
You know what's cooler than telling an AI what to create? Both telling and showing an AI exactly what you want to create!
Well now you can with starter images!
You can start with a simple shape: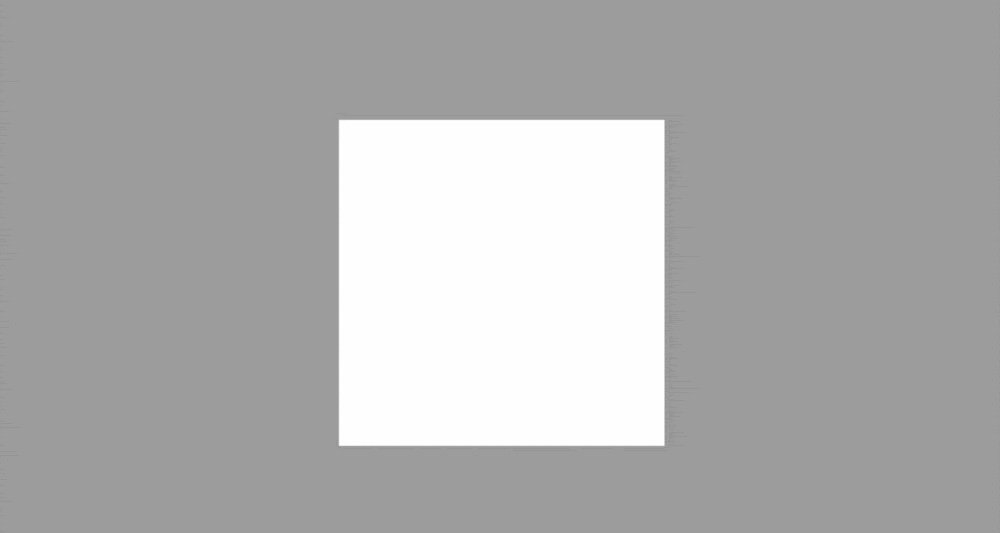 muted explosions of color in a square on colorful background speedpainting by @ahow
You can start with a simple illustration: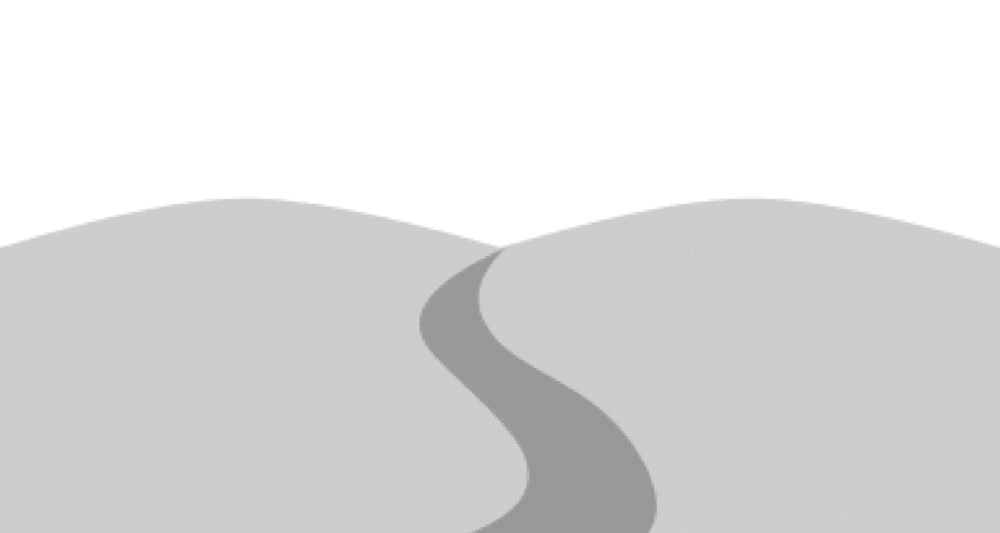 Hills of an alien city by @ahow
Or you can start with a picture of your own: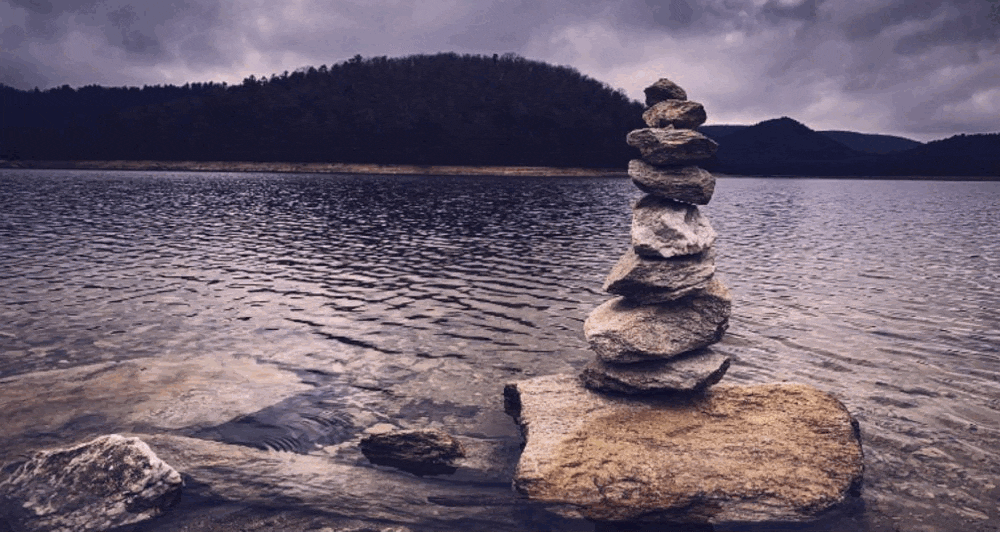 Stack of Rocks by a Lake by James Gurney by @magickalbear
Accomplice comes with several example starter images under the Browse tab, but the real power comes from the images you can add yourself. You can build a collection of go-to starter images and start creating like never before.
I absolutely cannot wait to see what everyone does with this game changing new feature!
🗂 Organize your prompts with collections
Accomplice started with a few basic places you could put your prompts: the Inbox, Favorites, and the Archive.
But now, in addition to those defaults, you can create as many different Collections as you like.
For Accomplice creators with 100s and 100s of prompts, I hope this greatly improves your workflow!
💬 Get helpful hints on what to make with modifiers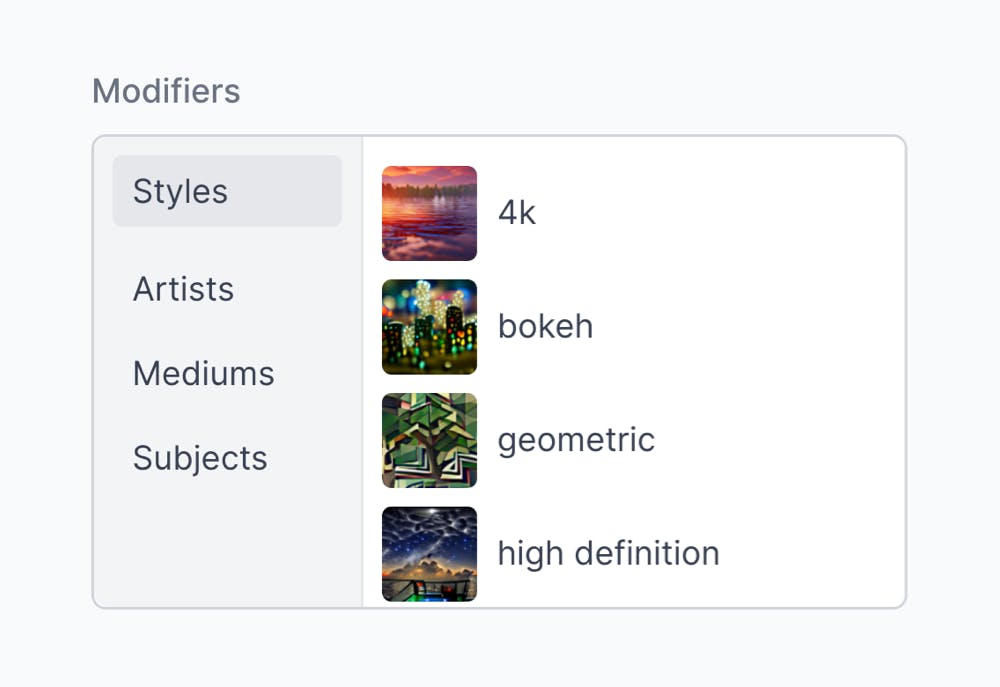 Modifiers are what I call the words you can use to influence what Accomplice creates. If you browse the community you'll see them everywhere.
Words like "speedpainting" and "mystical" and "by James Gurney".
Well now I've started collecting all the best, most effective modifiers and adding them to the new modifiers toggle at the top of the prompt creation screen. When you tap it you'll see the above menu with a bunch of modifiers broken down into the categories of Styles, Artists, Mediums, and Subjects.
More modifiers will be added all the time, and if you see one you think should be there just reply to this email and let me know.
And very soon you'll be able to favorite modifiers and add your own custom modifiers for you and your team to use again and again!
🔎 Community search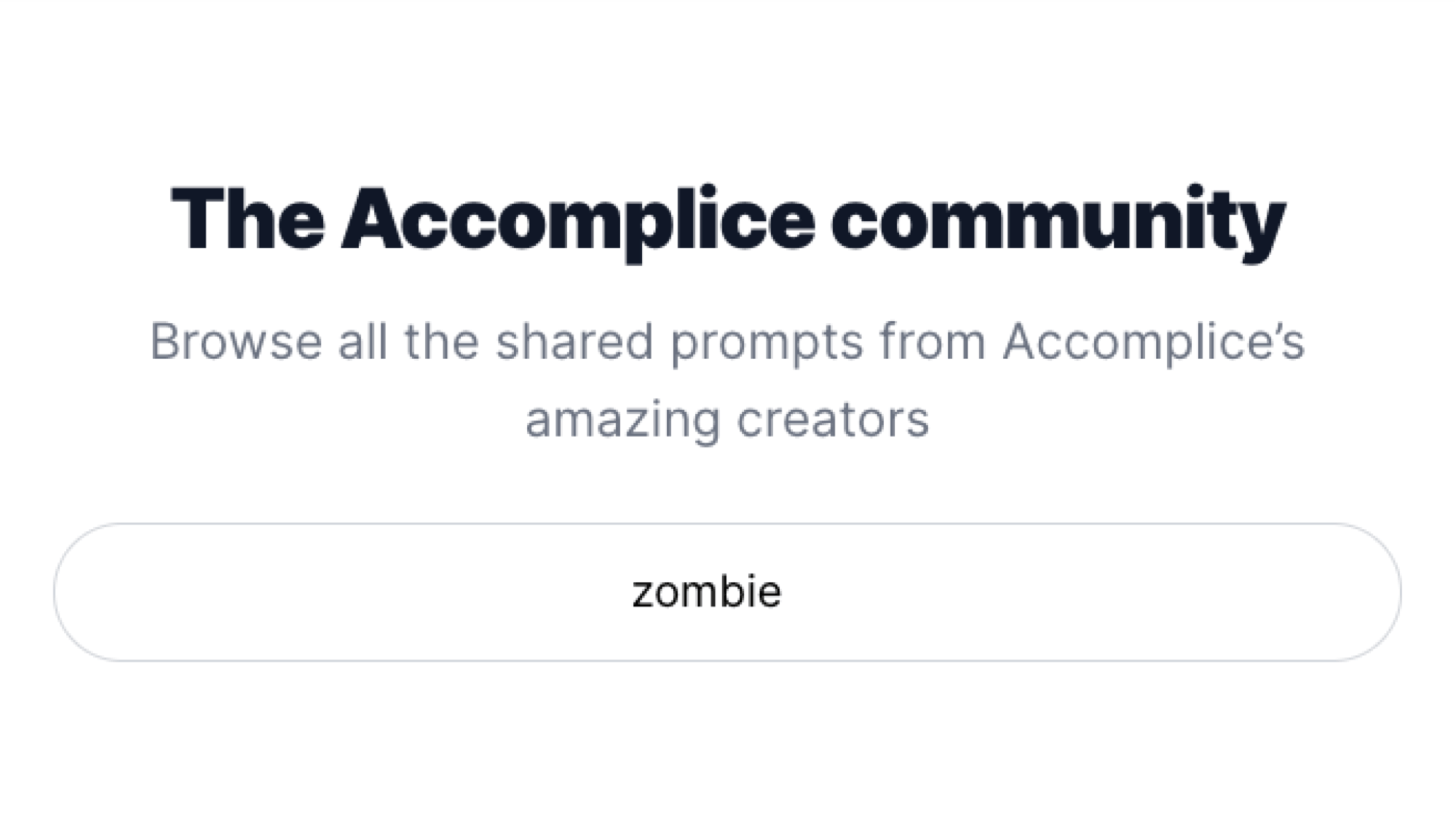 The Accomplice Community now has over 650 prompts and is growing faster and faster everyday.
And now you can search it!
You can search it for zombies. For fairies. For watercolor. For minimalist. For Thomas Kinkade. For whatever this is. You get the idea! An already amazing resource is now even better. Happy searching!
🤯 And somehow even more!?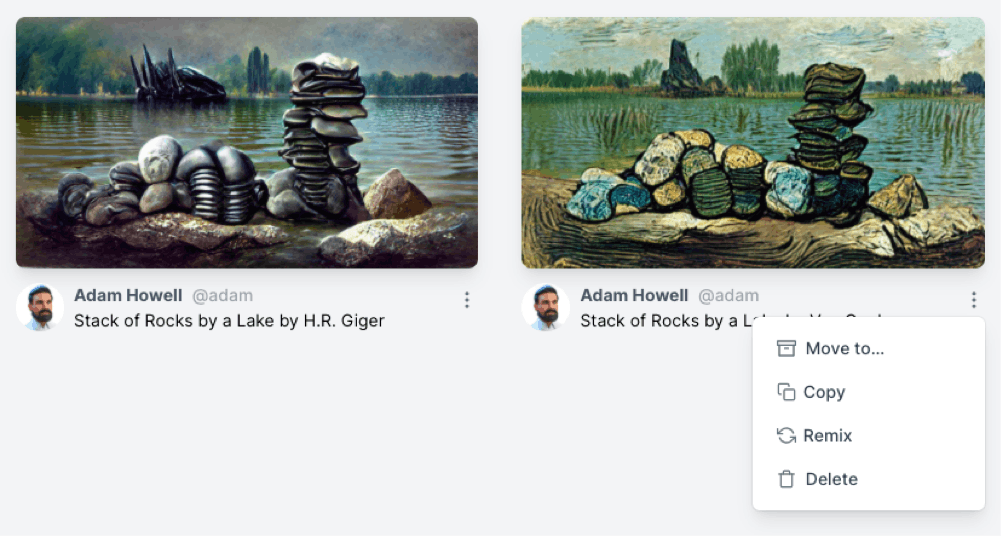 New dropdown: It is now a whole lot easier to organize and delete your prompts with this new dropdown you'll find underneath all your prompt thumbnails
Copy: You can now copy your prompts – as well as any of the prompts that are shared on the Community. Copying takes all the original settings of the prompt – the prompt itself, the aspect (landscape, portrait or square), and any starter image it might have used – and let's you maybe tweak a couple things before running it again. It's super handy for experimentation or creating a series off of the same basic prompt.
Remix: In addition to Copy – which takes the starter image if there was one – Remix takes the last iteration as the starter image and let's you tweak the prompt from there. This means you can run a prompt again for 200 more iterations and see what happens! Or you can add "by Van Gogh" to the end of someone else's prompt and get something totally different!
Whew! There was so much new to cover in this newsletter I had to skip the Community Highlights. But they'll be back next newsletter. Happy creating everyone!